Workgroup Manager Remote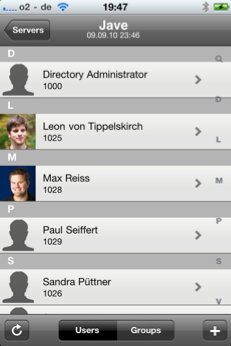 IT administrators can use Workgroup Manager Remote (WGMR) to display and edit Mac OS X Server Open Directory accounts on the go.
With the Workgroup Manager Remote all network accounts of your Mac OS X Server are right at your fingertips.
Did you ever want to look up a user account data of your server on the go? Workgroup Manager Remote caches the data on your mobile device while you are traveling.
This program uses the same interface as the Server Preferences Application on your Mac. If you can connect with Server Preferences, you can connect with Workgroup Manager Remote. No additional installation on your server is needed. Works on EDGE, WiFi and 3G connections, given you have access to the ports needed on your server.
We are working hard to improve Server Admin Remote, more features are coming soon, like:
- optional PIN protection when starting
- User password modification support
- User activation status modification support
Feedback, Questions, Feature Requests and Bugreports are very welcome, please send a mail to:
workgroupmanagerremote@harlekins.org
Other applications that might be interesting for server admins are:

Podcast Producer Remote
, the remote control for Podcast Producer installations
and
Server Admin Remote
.